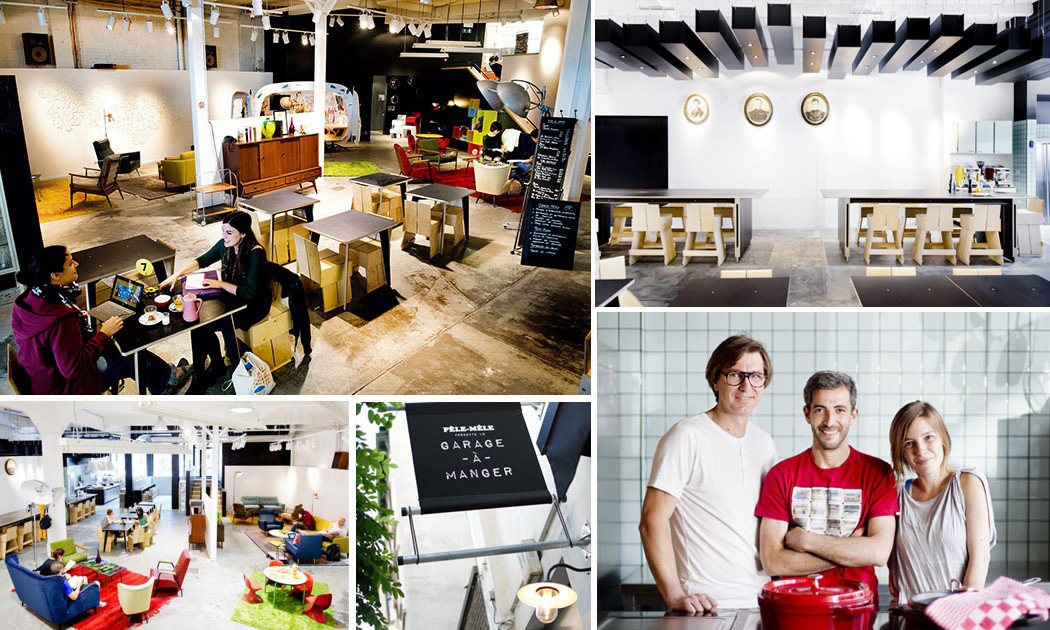 Le Garage à manger : Humming with pleasure…
A story much as we like to devour them. One fine day, Joël Geismar parks his striking lorry in an old garage on rue Washington in Ixelles. The vehicle remains there, the garage is revamped. The bookshop Pêle-Mêle leaves its boxes of books and joins the adventure. And so the story begins.
The only car park where you can buy Stephen King. This vast industrial space, designed with an open kitchen, offers a Scandinavian decor, large made-to-measure tables d'hôte, small pedestal tables straight from your granny's sitting room, vintage armchairs perfect for burying your head in a book, mismatched antiques and crockery, a bric-a-brac atmosphere, a long-distance caravan, a whiff of Bohemia and belles lettres.
In the middle, a caravan fitted out with cushions and children's books. The camping car lets parents enjoy their lunch leisurely, without interruptions.
Here you can savour a hearty breakfast, have lunch, sip pre-dinner drinks, flirt with your co-worker, eat mashed potatoes and buy the latest Pulitzer.
The chef runs on organic produce, on local, home-made, flavourful products, not to mention the « slow food » label ensuring the food's freshness. At lunchtime, the menu changes every day: soup/starters/main course/dessert which may be combined as you please.
The setting is tremendously convivial, and if you're about to indulge, you might as well do it in a library. Between two dishes, you can climb the staircase that leads to the bookshop, stock up on paperbacks, go downstairs to eat your plate clean while leafing through your books.
On Sundays, brunchtime is sacred! For that occasion, « Le Garage » turns into an extension of your house, you are guaranteed to feel right at home there. In the kitchen, you can walk along the work surface and lift the enormous casseroles' lids to discover the traditional culinary treasures of which you will enthusiastically ask for a second helping : eggs cooked at low temperature, beans in home-made tomato sauce, sausages, pork belly simmered at low temperature during 5 hours, seasonal vegetables, soup of the day, but also granola, farm yoghurt, poached pears with hibiscus, scones, brioches and pancakes… (the all-you-can-eat option for 25 euros is dirt cheap!)
Large groups (at least 50 people) can reserve the premises for an evening. Customised formulae are possible. (Contact the staff for details.)
From Monday to Wednesday: 10 a.m. till 6 p.m. / From Thursday to Friday: 10 a.m. till 10 p.m.
Saturday: 10.30 a.m. till 10 p.m. / Sunday: 10.30 a.m. till 6 p.m.
Informations
1050 Ixelles- Rue Washington, 185
W- garage-a-manger.be
T – +32 2 880 67 74
E – info@elcamion.be
A Garage where « El Camion » parks