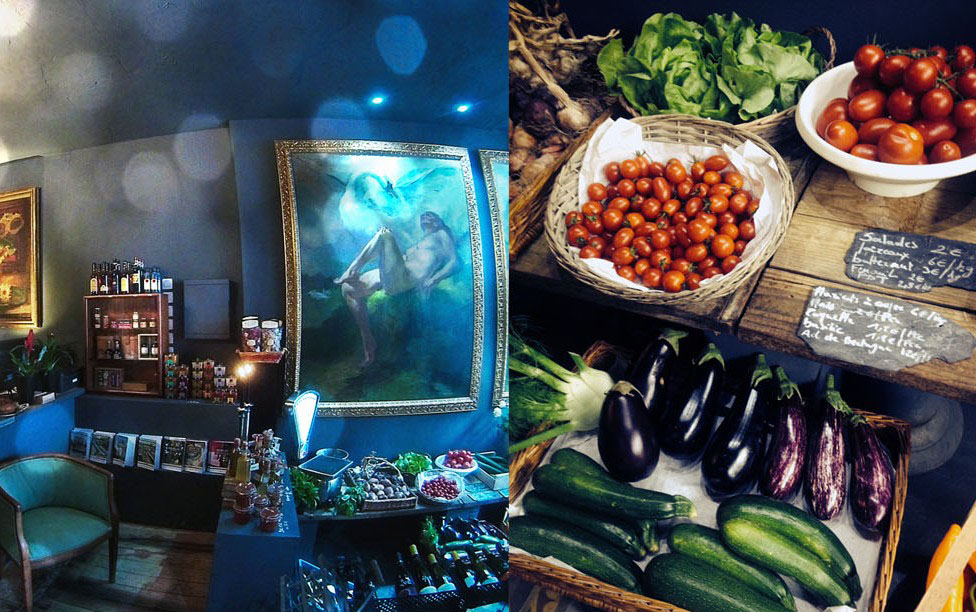 The Bar and the Market – The « Wine Bar du Sablon des Marolles »
The 'Le Marché du Wine Bar', a genuine gourmet concept store, has set up shop on rue Haute next to the Wine Bar, a stone's throw away from the place du Jeu de Balle in Brussels. For an evening of fine food and shopping in a chic antique shop atmosphere.
At Joël's Marché du Wine Bar, bargain-hunting is seasonal.
Joël has left the greenery of the Pajottenland to rub shoulders with the frenzy of Brussels' city centre. Located next to the "Wine Bar Sablon des Marolles", he vouched with his new neighbour to help new friendships and collaborations to emerge in the neighbourhood and to thus guarantee the quality of natural tastes without additives
In the grocer's corner, you can haphazardly choose fine food products from local organic farmers and discover fabulous, still little known wines unearthed by the owner. You can find the rare pearl: paintings and other objects of a bygone era in an atmosphere screaming "living nature".
Don't be surprised to see the chef from the neighbouring restaurant stepping in to pinch some fleur de sel, a bulb of garlic or truffle oil. This is a market after all…
Open Wednesday to Saturday from 11 a.m. to 7 p.m.
Open on Sunday from 11 a.m. to 6 p.m.
Le Marché du Wine Bar
1000 Brussels -Rue Haute, 196
Phone: +32 475 89 22 90
At Vincent's Wine Bar Sablon des Marolles, you can taste fine wine.
« Cave : on y descend pour se remonter. » ("Cellar: you go downstairs to buck yourself up.") Roger La Ferté
Vincent Thomaes, sommelier and creator of a tasting temple located in a 17th century building, offers a menu of local products, passionately purchased and prepared to be enjoyed with a highly personal selection of classical and biological wines. His winery is a haven for poets, a bar, a small restaurant, a place where taste buds bloom.
Le Wine Bar du Sablon des Marolles
Open in the evening from Wednesday to Sunday.
Open on Saturday and Sunday noon.
Rue Haute, 196 •1000 Bruxelles
T. +32 (0)47589 22 90