25 Nov

Dinner In The Sky, des chefs et des étoiles
Tu - Fr : 12am - 1.30am
and 7.30pm - 21pm
Only on reservation
+32 496 80 89 89
DINNER IN THE SKY
CHEFS AND STARS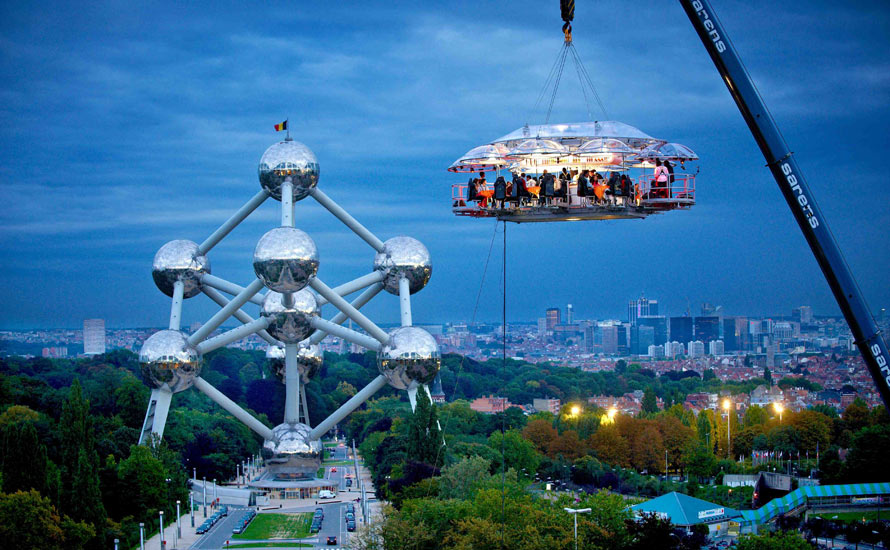 Just like a merry-go-round, yet your stomach will be spared. At 50 metres above the ground, you can see gastronomy from a totally different perspective. The two masterminds of the project had their head in the clouds, this year they will celebrate the ten-year anniversary of their collaboration. The concept has worked out and appeals! Fifty five countries have already adopted this towering table.
Does imagination float above the clouds? Do Floating Islands dissolve in custard at the height of the moon? Are tastes more titillating when they reach for the sky?
You will find out when you will reserve your table for lunch or dinner, for a tête-à-tête or in a group. The only limit? The sky, of course, but also: 22 guests seated although soaring, 5 employees at the centre of the platform and a surface area of at least 500 m2. For each take-off, the pilots take turns: at the helm, the best head chefs of Brussels amongst whom Yves Mattagne from Sea Grill **, Lionel Rigolet from Comme chez Soi **, Pascal Devalkeneer from Chalet de la Forêt **, David Martin from La Paix *, Giovanni Bruno from Senzanome *, Luigi Ciciriello from La Truffe Noire * & Bart De Pooter from De Pastorale ** and from WY* .
Dinner in the Sky will further stretch its upper limits to celebrate its ten year anniversary. Ten cranes each bearing ten tables and welcoming a Michelin-starred chef will set up their summer quarters next to the Atomium.